"Our Stories, With All Their Ups and Downs"
GALLERY 77 -

Contemporary Istanbul 2018 Art Fair
İstanbul Lütfi Kırdar Convention & Exhibition Center – Rumeli Hall (ICEC), Ground Floor Booth No: A1-130 20-23 September 2018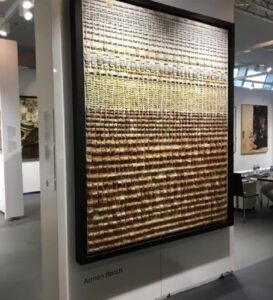 Armén Rotch first began to exhibit his work in Armenia in 1978 under the name of Armén Hadjian, with the "Carré noir" Group, and continued to exhibit into the 1980s with the avant-gardists of the "3ème étage", of which he was one of the founders, taking part in the "First Gathering of USSR Avant-gardists" in 1987. At this point, he began to show his work beyond Armenia: in Narva, Estonia in 1988; in Paris in 1989; in Copenhagen in 1990; and in Moscow, Vienna, and New York in 1991. He lives and works in Paris since 1993.
In the early 1990s, he exhibited during the Armenian Art week at the Bochum Museum in Germany and at Zimmerli Art Museum in New Jersey. He participated in the Armenian MAC Collection exhibition in Paris and is then presented at Caisse d'Epargne pour l'Art Contemporain Foundation in Toulouse. In 2011, his work was shown at Parcours Saint Germain FIAC-off and at SAM Art Projects Foundation. A retrospective exhibition was devoted to him at the Espace Art et Liberté near Paris and at ACCEA (Armenian Center for Contemporary Experimental Art) in Armenia. He also took part in the Gyumri Biennial (Armenia) and in the Douai Biennial (France) in 2015.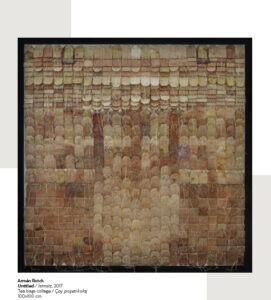 The most well-known of Armén Rotch's works are the collages and installations he makes with simple, even minimalistic patterns using tea bags. Here, the artist uses the tea bags as both leitmotiv (subject) and main technical material (object) which forms his art. Taking these most simple and common materials and using them to create sensory and multi-layered works that are pure in beauty, Rotch displays a body of work which almost appears to have humility and modesty, unlike the sense of smugness we often get in contemporary art scene. Once seen as a luxurious item and traded internationally, the tea has a historical prominence – but in Rotch's eyes these tea bags that we use very often in our daily lives exemplify the very breath and the existence of human beings. Every breath and life drawn together are actually used to relay the stories of the polyphony within us and the harmony therein. Owing to his usage of this special material, the influence of Arte Povera could be felt, which is an Italian art movement, modest and bereft of any vanity; in which the artists use only the most simple and common materials.