"The Ground We Have in Common" Gallerie delle Prigioni, Treviso
FONDAZIONE BENETTON STUDI RICERCHE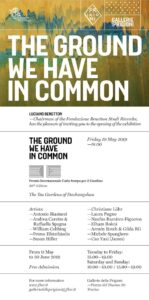 Opening:
Friday, 10th May 2019, 18:00
11/05/2019 – 30/06/2019
Gallerie delle Prigioni, Treviso
The Ground We Have in Common is the title of the exhibition that will take place at Gallerie delle Prigioni, Treviso, curated by Patrizia Boschiero from Fondazione Benetton Studi Ricerche, and Nicolas Vamvouklis from Gallerie delle Prigioni. The exhibition is dedicated to the 2019 edition of the International Carlo Scarpa Prize for Gardens, which this year is awarded to the Dazhangshan Tea Gardens in China.
From this starting point the exhibition revisits ideas and themes that have traversed the 30 previous editions of the Prize. Bringing together artistic research and scientific investigation, the exhibition unfolds among diverse contributions to explore the languages chosen by contemporary artists who investigate both the concept of the garden in a broader sense and that of taking care of the earth.
In the Dazhangshan Tea Gardens, located in Wuyuan County, over 250 farming families cultivate tea plants according to the principles of organic farming in an area of 9,300 hectares of fields and hills. In this way, those who make a living from the land maintain a close relationship with their surroundings, guaranteeing the continuity of cultural traditions and aesthetic values, both of which are conditions of equilibrium in the relationship between humanity and nature.
Michel Foucault states that «the garden is the smallest parcel of the world and then it is the totality of the world».The visitor is therefore invited to start from the observation of this "parcel" – the garden – and its many variations, to explore a series of themes. The exhibition investigates the relationship between man and the landscape, in terms of personal research and universal balance, focusing on the intervention that the human being can exert on nature. Archival material, photographs and a documentary film narrate a place and its beauty by creating a dialogue with the works of art and exploring the hypothesis of a symbiotic relationship between humanity and the natural environment.
Exhibited artists:
Antonio Biasiucci, Andrea Caretto e Raffaella Spagna, William Cobbing, Petros Efstathiadis, Susan Hiller, Christiane Löhr, Laura Pugno, Naufus Ramírez–Figueroa, Elham Rokni, Armén Rotch & Gilda RG, Michele Spanghero, Cao Yuxi (James).
Opening Hours:
from Tuesday to Friday 15–19
Saturday and Sunday 10–13 / 15–19
Free Admission
Photo credits : Marco Pavan, Gallerie delle Prigioni